WHERE ARE CLASSES HELD?
At the Connecticut Kitchen & Bath Studio, 3 East Main Street, Avon, just a few doors down from de Capo Ristorante Italiano, on the south side of Rt. 44 (East Main Street) by Old Farms Road.
HOW MUCH ARE CLASS FEES?
Fees for both scheduled group classes and specially-arranged private lessons vary based upon the complexity of the course and the preparation that is required. They range between $45 and $55 per person, and are listed with the Classes & Schedules below. Our fees are very economical, especially considering that much of the material needed for lessons is included. (Please call or send us an email to discuss any material requirements that may be necessary for individual classes.) What's more, you get to bring home the boxed cake or cupcakes that you create in class!
Payments must be made by check or money order. (Sorry—no cash, credit or debit cards. Never send cash through the mail.) All payments are due two weeks prior to the scheduled class date. The address is Bonnie c/o Wildflour Studio, 76 Cider Brook Road, Avon, CT 06001. Please review the cancellation policy below. If you have any questions, call 860-321-7496. Information on couples discounts is also shared in the Policies section.
WHAT CLASSES ARE OFFERED, AND WHEN ARE THEY HELD?
Classes are held one Sunday per month, from: 9:30 a.m. to 12:30 p.m. (Depending on complexity and the number of participants, class length may sometimes extend past the posted time.) Specially-arranged private lessons (for one to five participants) can be arranged for other dates and times. Please email the Wildflour Studio at Bonnie@CakesbyWildflour.com or call 860-321-7496 to discuss options.
SUNDAY, December 10th:
See how Rudolph takes the cake in this REINDEER CAKE CLASS where you will learn how to assemble three layers of cake in a fun and festive reindeer design.
FEE: $55 per person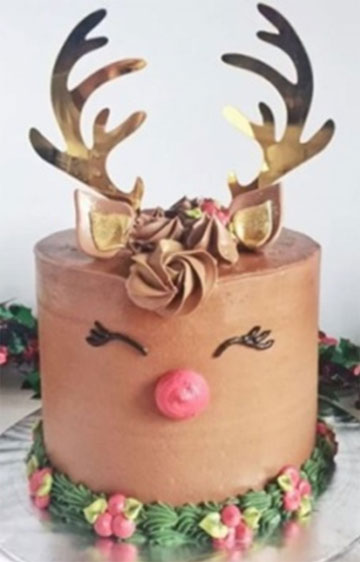 SUNDAY, JANUARY 14th:
It could be a cold, cold month, but in this BRUSH OFF JANUARY CAKE CLASS you'll learn how to create a brush-stroke cake in buttercream, enhanced with crystalized fresh fruit and apricot syrup.
FEE: $55 per person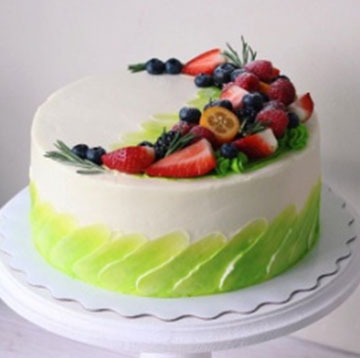 SUNDAY, FEBRUARY 11th:
You can put a lot of love into this dramatic red-and-white cake in our VALENTINE'S DAY CAKE CLASS, which will be enhanced with fresh raspberries preserved in apricot syrup and topped with a marbleized sugar heart.
FEE: $55 per person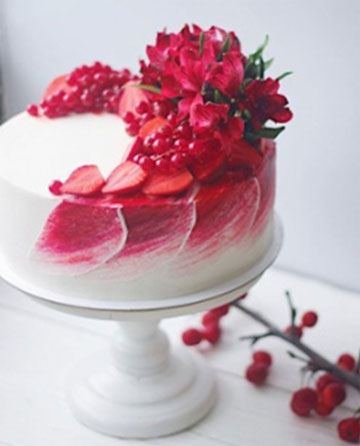 SUNDAY, MARCH 11th:
Clean, crisp and modern: in this WATERCOLOR CAKE CLASS you will learn to replicate this trending artistic design in a three-layer cake with blended patches of pastel colors.
FEE: $55 per person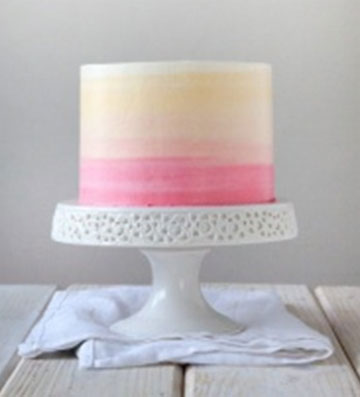 SUNDAY, APRIL 15th:
Yes, they do exist, and in this UNICORN CAKE CLASS you can replicate one in buttercream for a cake that is as delicious as it is magical.
FEE: $55 per person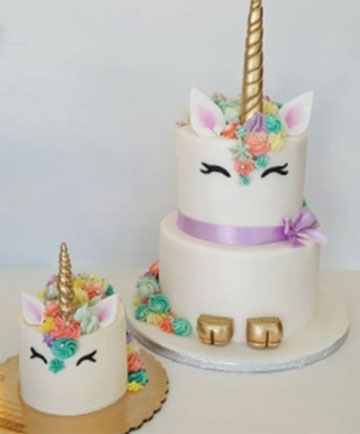 SUNDAY, MAY 6th:
Impress your mom (or husband, for that matter) by using Russian ball tips and other special pedal tips in this FANTASY FLOWER CUPCAKE CLASS to create awesome cupcakes with an array of buttercream blooms.
FEE: $45 per person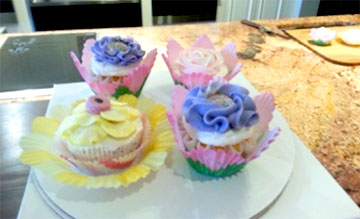 SUNDAY, JUNE 10th:
Learn how to pipe the cutest, most adorable face ever in this PUPPY LOVE CAKE CLASS, where you will learn to use buttercream to replicate this sweetheart face—or one of his brothers, sisters or cousins.
FEE: $55 per person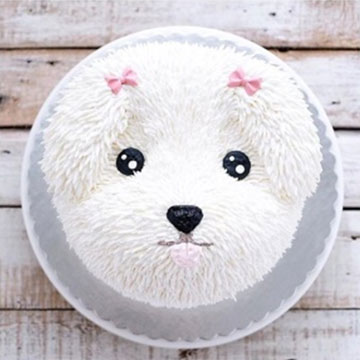 WHAT ARE THE WILDFLOUR POLICIES?
Before mailing your payment for a class, please call or send us an email to confirm that the class in which you are interested has not changed and that there is still room to register. Thank you.
Payment must be made in full two weeks prior to the scheduled class. Check or money orders should be sent to Bonnie c/o Wildflour Studio, 76 Cider Brook Road, Avon, CT 06001. (Sorry—no cash, credit or debit cards. Never send cash through the mail);

Forty-eight hours advanced notice is required for cancelation and a full refund. Fees for cancellations with less than 48 hours notice cannot be refunded, but may be applied toward a future class;

Safety & Health Department regulations strongly suggest that you wear closed-toe non-skid shoes to class, and have long hair restrained before entering the Studio (bandanas, headbands, baseball caps, etc.);

It is highly recommended that aprons be worn during class. Please provide your own;

Classes are limited only to those who registered and paid the class fee. (It is a small studio.) Extra guests and observers (including children) cannot be accommodated and will not be allowed to remain;

Class size must be limited due to the size of the studio;

Class participants must be at least ten years of age;

Married or engaged couples who wish to take a class together are entitled to a 10 percent discount off individual class fees;

Please be aware that for certain tasks (usually involving fondant) you may be required to wear disposable gloves, which the Wildflour Studio will provide;

We use shared equipment that either contains gluten or is not entirely gluten-free, and our cakes and cupcakes are not gluten-free;

Cakes, cake rounds, and fillings contain no nuts but will created on shared equipment used to create products that may have contained nuts;

Please allow for staying a little beyond the posted class time, as some classes may occasionally last a little longer than expected. This does not in any way affect class fees;

Neither the Cakes by Wildflour Studio nor Connecticut Kitchen & Bath Studio will be responsible for personal items;

Plenty of free parking is available in the de Capo parking lot (please follow any posted restrictions), though neither the Wildflour Studio nor Connecticut Kitchen & Bath Studio will be responsible for theft or damage to participants' automobiles.